Content Marketing,Content Marketing | 13 min read
After years of working in the Brand and Marketing space and producing content on the how, what and why of Branding — with a prompt from my network — I have decided to bring all the information together to create the ultimate guide which will help you through each step of the branding process.

There are 5 key steps we will be covering in this guide:
Vision: Bringing the brand why to life
Agency: Things to consider when selecting an agency
Execution: What do you need to hit the ground running
Implementation: What to keep in mind as you roll-out your brand
Maintain: How do you continue to create a culture that customers resonate with
We'll then wrap it up with putting in some measure to track the brand roll-outs success.
Vision
The vision consists of 3 key categories — the what, who, and why — but maybe not in the way you'd expect:
What is the need
Who is it for
Why are you talking to them
What is the need
When you're launching your brand, it is always good to identify the market that you know needs your product… Sounds easy enough, right?

Well if your answer is "My product is amazing, everyone will want it." You need to dig a little deeper. Everyone is not going to hear about your product, at least not right away. What to identify are:
Target market
Size of the market
Growth of the market size
Growth of the industry sector
Customer type/demographics
Where is the Customer in the shopping process when they identify your product is the one they need
A couple of great tools you can use to measure how the market is trending are Google Trends and Uber Suggest.

This obviously will then dovetail into…
Who is it for
It's one of those great buzz words right now the 'Buyer persona', it may seem a little early in the process to start considering however this can definitely shape the character and tone of a brand.

When you put together a buyer persona you should not write based on the customers you have or the ones you expect will buy, write based on the best type of customer that you'd want to do business with. That way as you form the brand, you build it with your perfect customer in mind.

Considerations to keep in mind:
Personal: Age, Gender, Marital Status, Location, Religion, Politics, Culture
Professional: Income, Education, Role
Problems they have
Solutions they value
Where do they hangout — this can be useful for identifying networking and event opportunities
Who are they talking to before you — this is a great way of identifying who may be a useful referral partner
A great tool for a guided process and with a great user interface is HubSpots Make My Persona tool.
Why are you talking to them
There are more than just the extrinsic motivators for a customer purchase, there is always a consideration around 'What's In It For Me.' This resonates intrinsically for customers based on the experience and how they can share that experience.

What can you create within your brand to get people saying "Wow! That was fantastic, I loved how they did…" becomes the sticky element that taps into someone's emotional, creative, ego or cultural state.

Creating a brand is creating a culture, how do you connect with customers and make them a part of that culture?
Agency
There are so many players in the space, picking one can be tricky, especially if you have never worked with an agency or freelancer before. This section will give you the requirements you'll need to choose your agency.
Project or Full Service: This may not be at the top of everyone's requirements but I think it helps narrow the selection based on your brand requirements. The question is do you want someone to execute a number of assets, implement and leave you to run the business or do you want a fully integrated strategy? In the early stages for a small business a project style implementation may be enough. But if you are planning to drive a communications strategy that aligns with the overall vision of the brand, forms a culture and has continuity with the original concept, perhaps finding a full service solution may be a better fit for your long term goals.
Personality Fit/Passion — Now it's about character, ask yourself:

Do they get my vision?
Are they emotionally invested in my brand? This can be displayed through their idea generation and energy towards the concept
Do I like them, do they like me?
Are they playing at the same level and developing an understanding of my unique brand positioning?

History of success/Training — It is always good to cover the basics:

Review their portfolio to see if the qualities of their work resonates with you. Query if the project concept, creative direction and execution was done by them or part of a team.
Review their resume and education. Though formal training does not determine the creative ability of a designer, it is a consideration when making the choice.
Request case studies and testimonials. Identify their ability to follow a brief, successful on-time delivery and level of communication. The ongoing effect on customer relationships is also a great measure of success (eg. growth in the brand, better customer retention, repeat business and referrals)

Transparency in their process — I'm a strong believer that good process makes for a clean execution:

How do they get deep insight into your vision? We have our Brand Tool which helps us gain insight into where the brand is right now, how they'd like the brand to be positioned and where it may not be aligning with that greater vision: https://ucidity.com.au/services/branding/ — this is also used to brief in the whole team to ensure we are on the same page.
Do they use project management software and communications tools to ensure that the team understands timelines and expectations?
Do they have a kickoff meeting to ensure all stakeholders both client side and agency side know each important point of call?
Execution
In this section we will talk about the what in branded collateral you'll need to hit the ground running and the important considerations when writing a brief to ensure a consistent execution.
Logo & Brand Elements: To be or Not to be Unique
The first thing to do if you haven't already is to review the market. Have a look at the industry and your competition, what they are doing in the space and what they have done in the past. Ask yourself "How brave will my brand be?"
Often when it comes to brand colour, we do an industry comparison chart. This can be an easy way to get cut through in using brand colours which are unique within your industry: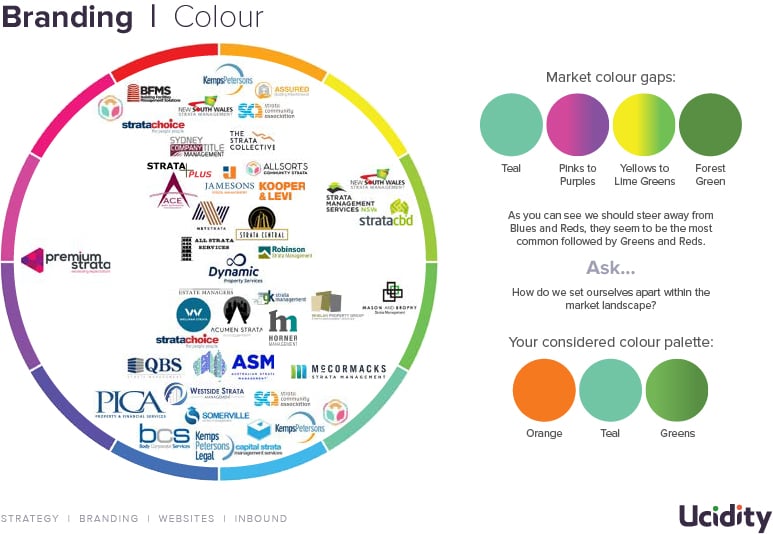 When making other considerations for the logo and brand elements, keep in mind shapes;

Image credited to VectorStock
Patterns: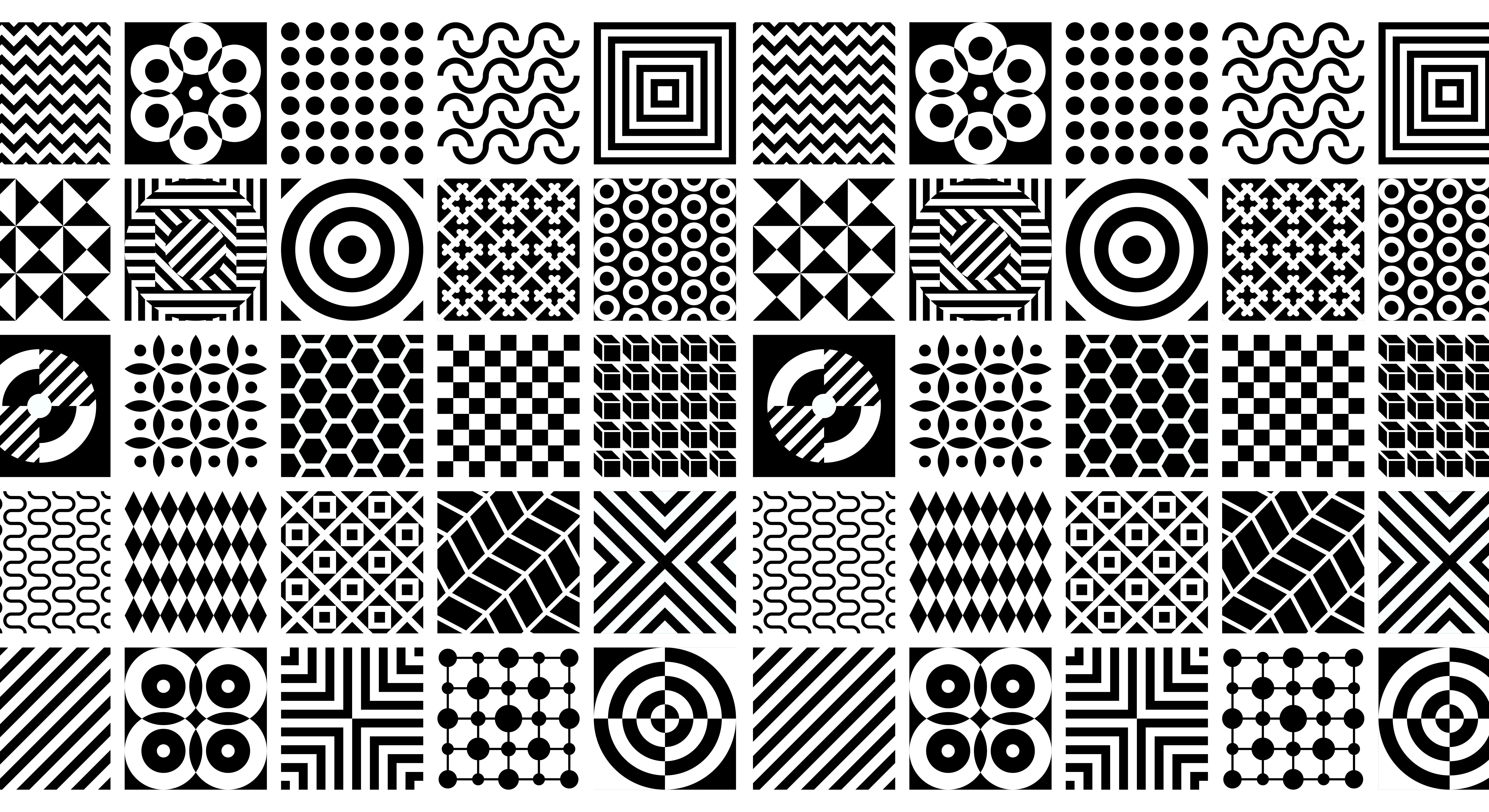 Image credited to Canva
Iconography;

Mammograms/Initials;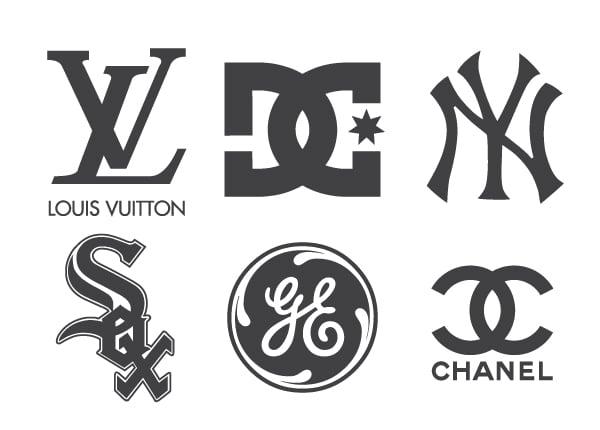 Image credited to Tes
And Fonts: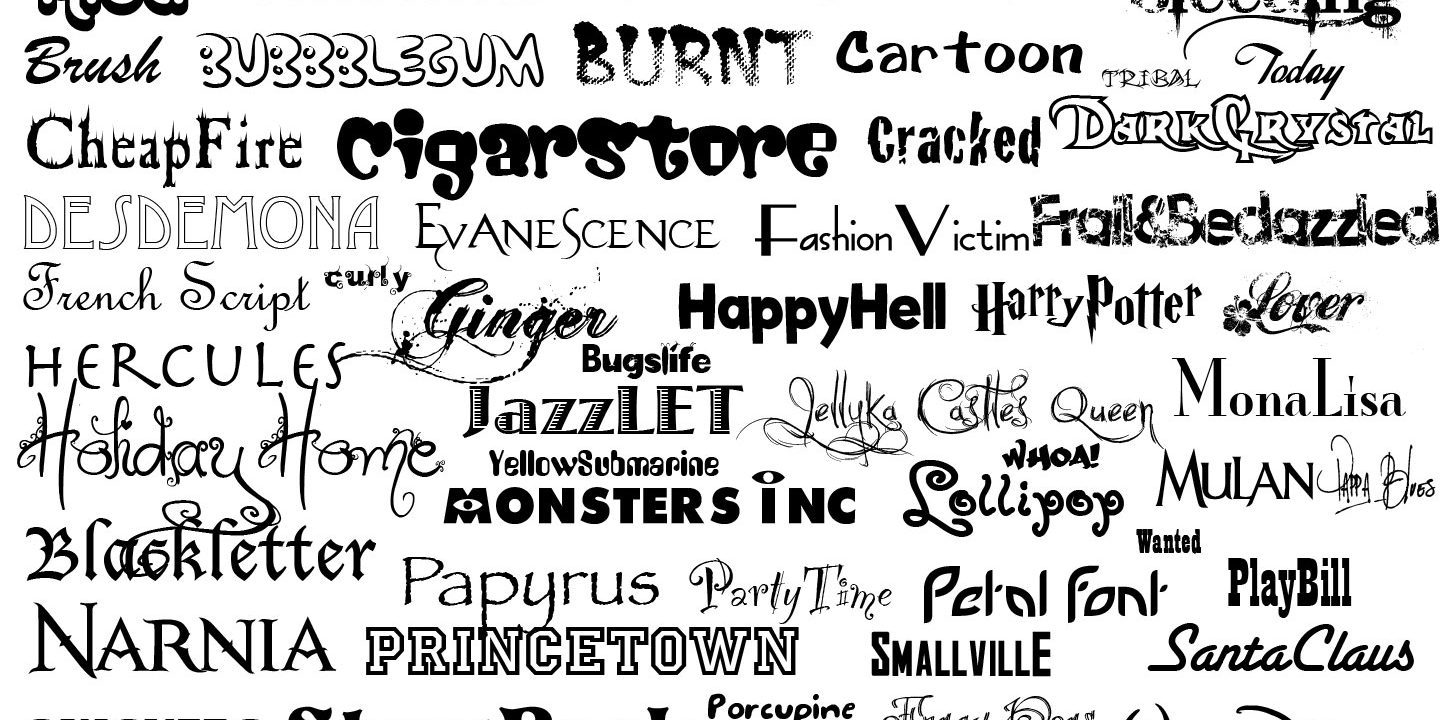 Image courtesy of Better Than Success
Note: When choosing fonts, unique fonts are great for a logo but when trying to replicate across your collateral you will need to install custom fonts on each computer that the business uses and presentation computers or your font will just default to the computers choice. A work around for this is to have a print font (custom) and digital font (default on most PCs/Macs) that way you will always know how it will appear.
Then, you can combine a range of these elements to then create your unique brand style. For example with our brand Ucidity, we adjusted the font to have unique 'i', these have become the feature of the brand. We then bring the 'i's together to create a 'U' icon which also looks like 2 people. The dots of the 'i' then formed the circular patterning used throughout our collateral, and all of this is combined with a unique color palette of dark purple, green and orange: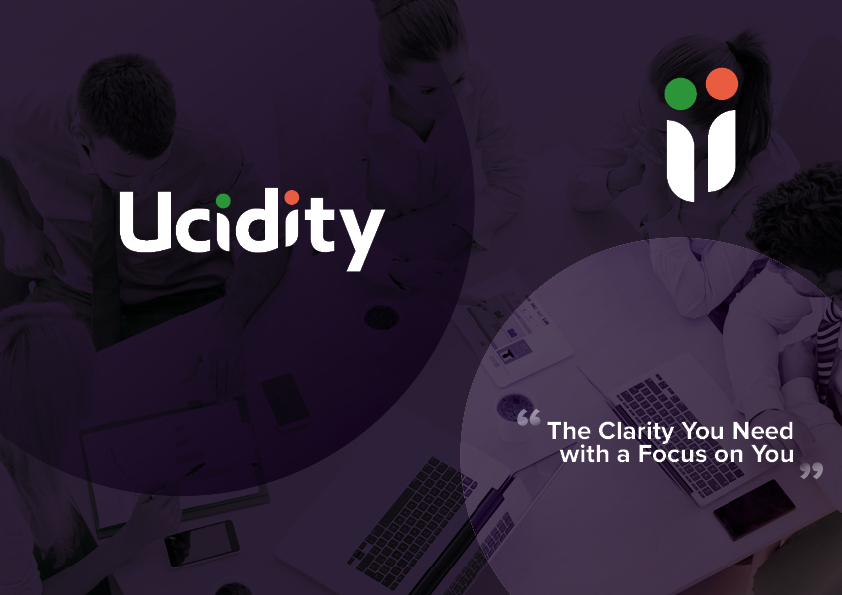 What to create first?
After years of small brand launches, we have put together a list of what we have found most businesses will need to hit the ground running: https://ucidity.com.au/offerings/small-business-development/
For most brands this will include:
Logo
Business Cards
Email Signature
Website
Letterhead
Promotional flyer or leave behind
PowerPoint template
Social media setup
Your logo, business card, email signature and website are definitely the minimum when going out to market. This way when you meet someone you have something to leave behind, somewhere they can learn more about you and professionalism in your communications. Your letterhead, promotional collateral and PowerPoint template will help maintain the brand qualities and support you or your sales team when going to market. This then ties into any of your online channels such as social media, if you are getting your collateral design, you might as well get the digital assets done to.
Every touch point is important when connecting with customers. It is where they build trust with your brand. Inconsistencies in a brand fracture that trust and can create doubt for a buyer.
Creating the Brief
This question comes up quite often. It is hard to get each member of the team consistent in the perception of a brand or the target for a piece of collateral/campaign. This is where a brief is extremely important, the more clarity you can provide, the more aligned the outcome.
Here's what you'll need to identify:
What is it that you need:
Flyer, banner, digital ad art, etc.
What elements do you need to have in the communication:
Logo, brand elements, fonts, copy, images, icons, contact details, etc.
Examples of projects you like and that resonate (Research):
This is helpful when needing a new piece of collateral to align with a campaign you have already done or starting a new campaign that is different from any campaign done previously (Use external resources)
Clearly define what the collateral is for:
Print, email, website, billboard etc. This will allow the agency to give proper direction on creative and content requirements.
Provide all the relevant content and use a copywriter (Customer focused)
For your website or a strategic campaign, we recommend connecting with a professional copywriter. Often as business owners we get caught up in our industry, including jargon without even realising it. This can create a barrier between your offering and customers converting. Getting a copywriter can help ensure it's customer focus and wrap in the appropriate keywords.
Check out our marketing partner: https://www.melottimedia.com.au/
Timeline:
Always provide a timeline, this will help your agency establish priority and be more efficient with turn-around times.
Give them time — remember how long it took you to come up with the idea? Imagine how long it'll take to actually execute. For the best result give enough breathing room to ensure they can produce the best end result. Rushing the out-put often leads to mistakes on both ends.
Provide enough scope to allow them to know how far to push
If it's a new campaign or an out of the box idea for your brand, give your agency a scale of how 'brave' you'd like to be. New creative executions are time consuming, if you send them on a wild goose chase of creative freedom you will end up with delays or cost overruns.
Files and Formats
We've gotten into the unfortunate situation with a new client where they can't locate any of their existing artwork or the original logo files. Working files are not free, so budget to purchase them if you think you may require them in the future.
When creating your initial logo at a minimum you should aim to get the logo in:
Vector format: .eps, .ai, .pdf, .svg
Pixel formats: .jpeg and .png or .tiff (transparent background)
Vector formats retain their editability which means they can be expanded to any scale (Very necessary for merchandise or large format) whereas pixel based formats will lose clarity when expanded and contracted.
Definition of file formats:
EPS, AI - lossless, vector, can be expanded unlimited, designer file
PDF- lossless, vector, can be expanded unlimited, general use (Careful, as some suppliers will just embed a jpeg in this format)
SVG - lossless, vector, can be expanded unlimited, great for web
JPEG - lossy, pixels, should not be expanded
TIFF - lossy, pixels, should not be expanded, transparent, print ready
PNG - lossy, pixels, should not be expanded, transparent, on screen
Also look to get a guide of some sort which at least charts the brand colours in CMYK, RGB, PMS (Pantone). You may not know what these are, but an agency will definitely appreciate it and it'll ensure colour consistency.
Definition of colour profiles:
CMYK - print
PMS - can have exact colour match in production, signage, merchandise branding
RGB - on screen
Also request any fonts used, preferably in .otf or .ttf as it works on both Mac and PC. It is best to ensure this is on all team computers so when they are updating a document it retains its formatting.
Definition of font formats:
TrueType Font (TTF) and OpenType (OTF): Uncompressed, larger file size, available on Mac and Windows
Embedded Open Type (EOT): Uncompressed, smaller file size, Windows only
Bitmap Fonts (.fon): Windows only
TrueType Collection (.ttc) and OpenType Collection (.otc): Mac only
Web Open Font Format (WOFF): Basically OTF or TTF with metadata and compression supported by all major browsers.
Your design files will typically use one of the following formats:
IND: Adobe Indesign
AI: Adobe Illustrator
PSD: Adobe Photoshop
CDR: CorelDraw
We often create templates in Microsoft Word and PowerPoint as we understand the needs of our customers to be able to turn around professional looking documentation or proposals in a timely manner.
Just remember the creative files are I.P. of the designer just like a blue print for a product is the creative I.P. of the product creator. It isn't legislated or protected in the same way, but just as if you wanted to buy a patent there is a cost associated.
Implementation
As you roll-out your brand, I always suggest reviewing it using the 3 C's (and there's a fourth at the end) — Conviction, Consistent, Congruent.
Conviction
This is about you as the business leader:
Do you believe in what you have produced?
Does it align with how you see yourself and your brand?
Are you consistent in how you present yourself as your brand positioning?
Is your brand positioned to resonate with your target audience?
Consistent
Review all your collateral, print it out side by side:
Does it have elements that tie the brand together?
Does it speak the same language?
Does it have a unified voice and tone?
Do the images connect in style?
Is your iconography reinforcing the style of the brand?
Are the colours transpiring across the platforms consistently?
Does it feel like a cohesive package at the same standard across elements?
Is your target market considered with each execution?
Congruent
All about feeling now, the feeling your customer will get when they interact with your brand:
Does it align with the messages above and build trust with customers?
Does it resonate with your team so that each interaction with your brand is seamless?
Is the overall experience of the brand going to reflect how you want to be positioned in the industry?
Have you created a brand culture that your customers can be a part of?
Have you considered an integrated customer management and marketing platform to maintain the customer experience? https://www.hubspot.com/why-go-hubspot
The Fourth C - Copy!
I've mentioned it earlier, but before printing out 10,000 flyers have an impartial party ensure that the copy is customer focused, speaking directly to the customers needs and that it captures the elements of the 3 C's above.
Maintain
Now it's all done, you've created a brand! Kick up your feet, grab a drink and wait for the money to start rolling in . . . We wish!
It's time to think about how you will maintain the brand and continue to engage the market. These days there are so many considerations above, through and below the line.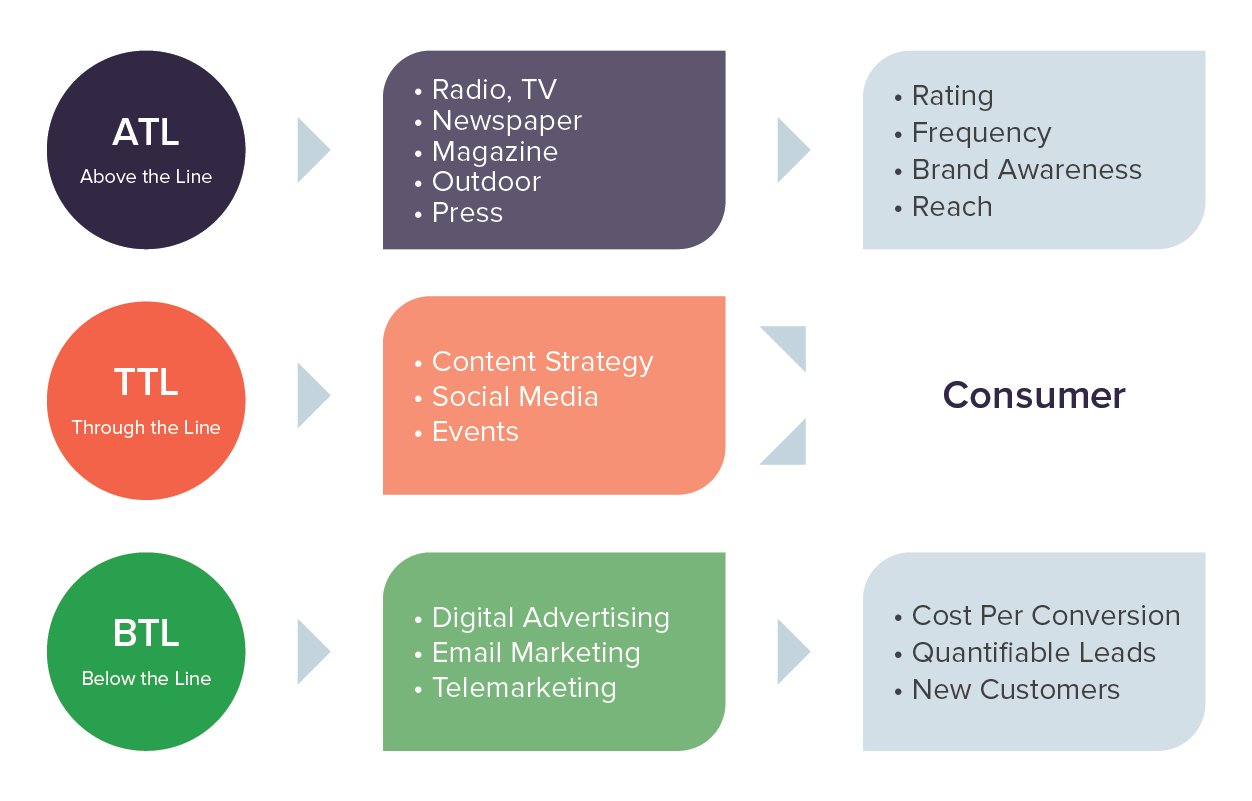 The fastest way for you to start leveraging your brand awareness is to start by taking advantage of the digital Through The Line channels — Content and Social Media. This is part of a solid Inbound Marketing offering which is focused around content creation.
Inbound marketing is great for lead generation and brand awareness, this includes:
Channels with one-off cost or no costs:

Social Media Content
Onsite Keyword Optimisation
Blog Content
Landing Pages
Event
Channels with ongoing costs:

Pay-Per-Click Advertising
Search Engine Optimisation
Email Marketing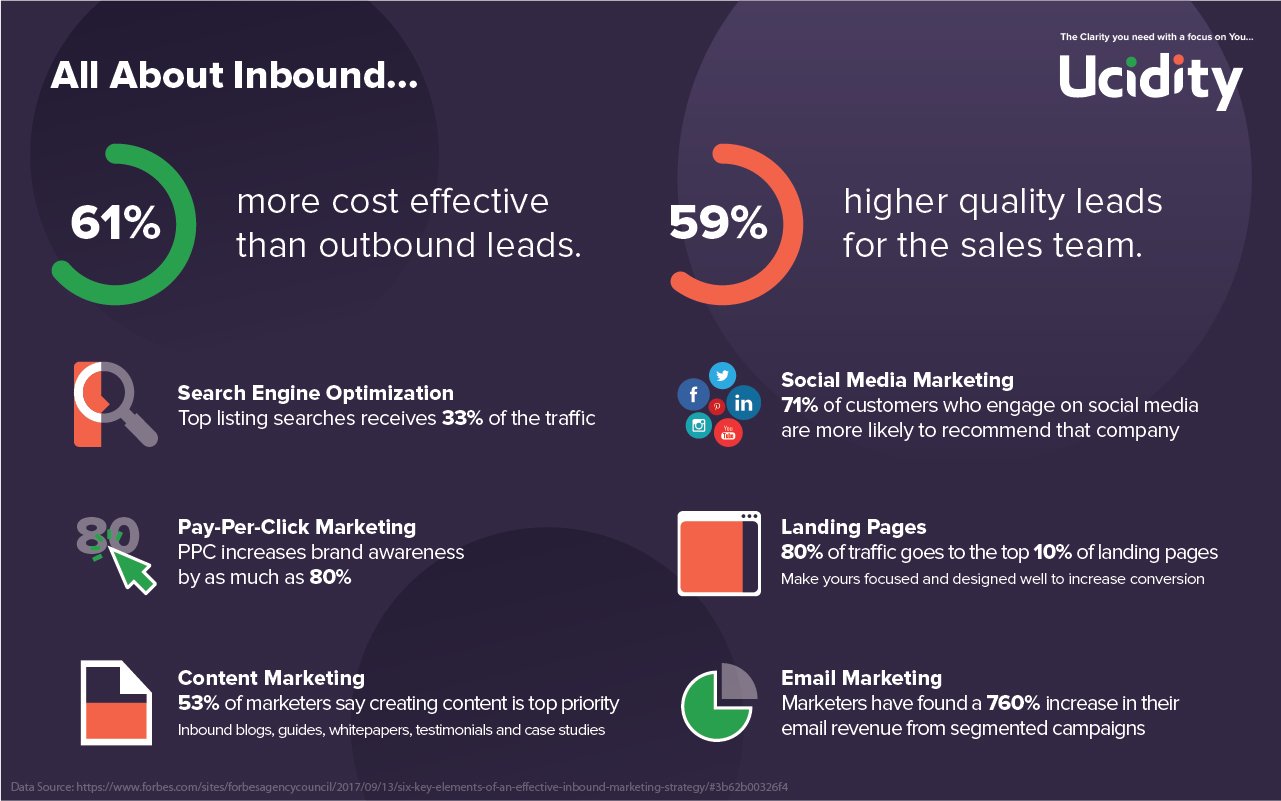 Choosing the right platforms is important, in the early days focusing on brand awareness through creating content is a great way of putting your message out and building raving fans.
In the end
Congratulations on the momentous undertaking. You've given birth to an idea and now you're nurturing that baby into a brand.
Remember that trust is built through each touch point, the more authentic and consistent the connections, the longer the relationships will last. We humanise brands we love, create a relationship with the brand culture and want to be part of the energy that brands create.
Track and measure as much as possible, have a system where you can record data and customer feedback. Continually review this so you can tweak and tighten up the brand message and maintain its customer focus.
Published on May 20, 2020